As Far as Possible - Following Groundbreaking Alumni
Tel Aviv University's Alumni Organization closed the academic year with an inspiring campus event, attended by over 4000 TAU alumni. Here are all the highlights
Tel Aviv University's Alumni Organization closed the academic year with an inspiring campus event, attended by over 4000 TAU alumni. The theme - As Far As Possible- Following Groundbreaking Alumni.

Opening the event with a creative and energizing presentation was Esti Zakhem, Chairperson of the Israeli Actors' Association and alumna of the TAU Theater Arts Department. Her empowering words redefined community, boundaries and paths forward, which take us all as far as possible.
TAU President Prof. Ariel Porat gave his first address to the alumni. He spoke about the importance of the faculty-students-alumni triangle, and added: "I myself am alum of the University, as are my wife and two of my three children. My youngest son has not yet graduated, but if he studies hard, he will graduate in about a year and a half. My grandson, however, will take more than twenty years to join us… because he is now only two and a half".

Prof. Porat highlighted alumni who currently serve as government ministers, Members of Knesset and as judges in all the courts. "In the Supreme Court, for example, seven of fifteen justices are TAU Alumni. One additional justice will assure our majority there", he quipped. In his address, Prof. Porat also mentioned the social entrepreneurs who are doing a great deal to promote equality and justice for the betterment of Israel, often away from the limelight. "As our alumni, you have the ability to make an impact on society, nationwide and worldwide," said Porat.
The event was hosted by journalist and television personality Hila Korach, alumna of the Hartog School of Political Science, Government and Public Affairs, the School of Psychology and the Faculty of Medicine. Korach introduced TAU Alumni Organization's global fundraising campaign, raising 300 scholarships for 300 TAU students from the alumni community. Currently, 107 scholarships have been donated, and alumni from all around the world are encouraged to help fund scholarships and change lives.


The head of the Alumni Organization, Sigalit Ben Hayoun, paid tribute to outgoing TAU President, Prof. Joseph Klafter, who founded the Alumni Organization four years ago. Through his leadership and vision, the Organization became the most influential alumni organization in Israel, with membership currently reaching 80,000. Ben Hayoun presented him with a farewell gift - a sculpture of the Organization's logo, designed by Israeli artist Nirit Levav.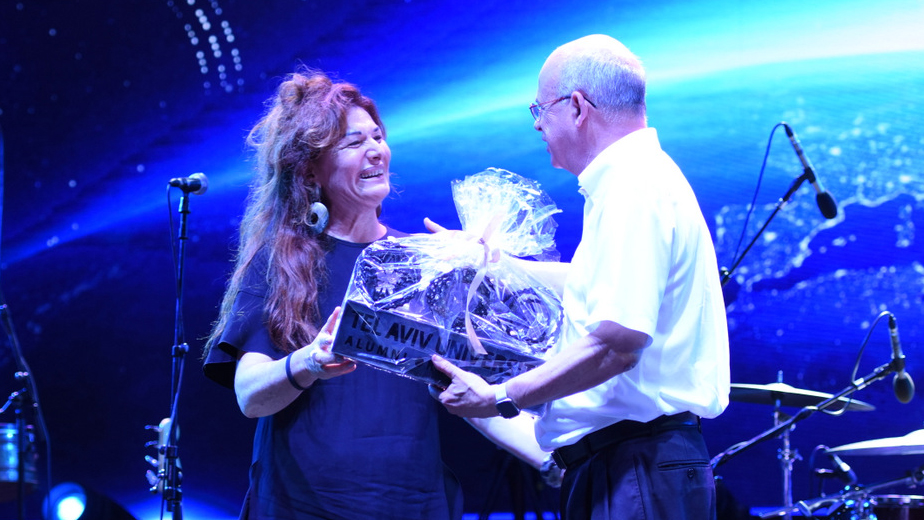 The Organization saluted the 200,000 TAU alumni who strive to make the lives of people all around the world better, more comfortable and meaningful. Three of TAU's groundbreaking alumni were introduced:
To highlight the theme, As Far as Possible - Following Groundbreaking Alumni, Co-Founder of SpaceIL and alum of the Faculty of Engineering Yariv Bash, regaled the crowd with the genesis of the Bereshit mission to the moon.
"I don't think there are many places," said Bash, "where you can approach a university president and say: 'Dude, do you have 50 shekels, I need to hitch a ride to the moon...' and actually get a positive answer. But that's exactly what happened - from that moment we got the most support from Tel Aviv University. In fact - receipt No. 001 in the SpaceIL books was given to TAU for its donation."
"This story embodies a groundbreaking entrepreneurial spirit concentrated over one square mile", added Bash. "Thanks to you, we had a tailwind, recruited more partners and the rest is history".
Paying tribute to SpaceIL's groundbreaking venture, singer Maya Avraham and dancer Etay Koren collaborated on a special performance of the song 'Bereshit'.
To conclude the first part of the evening, the secret element of Tel Aviv University alumni was revealed:
In the second part of the evening, Yehuda Poliker gave an extraordinary concert, with musical guests Miri Mssika and Berry Sakharof. The entire show was documented in video and is available on TAU Alumni Organization's YouTube channel:
Many notable alumni were seen in the bleachers, built especially for this event:
Omer Keilaf, CEO and Co-Founder at Innoviz Technologies
Liad Agmon, CEO and Co-Founder at Dynamic Yield
Zohar Gilon, Managing Partner at Tamar Ventures
Dr. Shimrit Perkol-Finkel, Co-Founder, CEO & Chief Scientist at ECOncrete
Sami & Tova Sagol
Gabriela David and Ariel David
Doron Schneidmann, CEO and Co-Owner at DIFI
Dr. Ron Wexler, CEO at Isracard Group
Elie Sagiv, CEO at L'Oréal Israel
Jonathan Haran, CEO at The Sustainable Group
Asher Levi, Former CEO at Orbotech
Prof. Itamar Grotto, Health Ministry Deputy Director General
Ilan Yeshua, Former CEO at Walla! Communications Channels Ltd.
Eran Gorev, Operating Partner at Fransisco Partners
Tzipi Ozer-Armon, CEO at Lumenis
Nili Zur, CEO at Wissotzky Group
Ron Avidan, CEO and Director at Azorim
Former MK Ophir Paz Pines
Omer Agiv, Co-Founder and CEO at WeissBeerger
Amir Ayal, Owner and Chairman of the Infinity Investment Group
Doron Averbuch, CEO at Credit Suisse Israel
Yoav Weinberg, CEO at E&M Computing
Menachem Oren, Founder, Owner and CEO at Oranim Projects
Nava Barak, President of ELEM – Youth in Distress
Doron Sapir, Former CEO at Migdal Group
Karen Schwok, Founder and CEO Lucid Family Office
Haim Elmoznino, Chairman of the Board at Alon Natural Gas Exploration Ltd.
Dr. Giora Yaron, Investor and Angel
Gilad Arditi, Co-founder of the flights site Alice
Shlomo Merkel, Vice President at Broadcom Corp and Chairman at Ramot
Revital Handler, Founder of AllJobs and GameChangerZ
Guy Rosen, Vice Chairman at Tnuva
Ido Yablonka, President at PureSec
Adv. Tamir Gilat, Chairman at the Israel Cancer Research Fund
Amnon Dick, Businessman and President at the Israeli Friends of TAU Association
Davidi Vortman, Co-Founder & CEO at Lumos Global
Michal Anski, Gastronomist, Food Journalist and television Personality, Founder of "Shuk Hanamal"
Dvir Benedek, Actor
Osnat Vishinsky, Actor
Limor Goldstein, Actor
The Chaser Itai Hermann, Gameologist and television Personality
Media coverage of the event included Globes, TMI's Lounge by Maariv, Walla! Business and Walla! News' business gossip column, as well as the MyNet local websites by Yediot Ahronot.
The event sponsors were: Mey Eden, Calcalist, Nur Media and Migdal.
Event branding: Osnat Freud, Kabuba.design
Director of the artistic show: Ruby Cohen
Photography: Yael Zur, Aviv Hofi and Shay Fireshtein
Videography: Ido Cohen Aloro