Valentine's Day Special: Intimate interview with Gil and Nili Peretz on love and working together
In celebration of Valentine's Day, we would like to share with you the story of TAU alumni and power couple Gil and Nili Peretz, one out of many couples who came to TAU to get an education and left with so much more…
A few weeks ago, the Tel Aviv University Alumni Organization held its first-ever virtual event for the Class of 2020, some 7,000 of last year's alumni of various degrees and from all faculties. The guest speakers of the event were Gil and Nili Peretz, both TAU Alumni. Gil studied at the Coller School of Management, and Nili studied at the Buchmann Faculty of Law. The couple held their joint lecture on 6 principles for career success from their current home in San Diego, California.
Nili and Gil, how did the two of you meet?
Nili: "We met on a blind date in November 2002. A close friend from when I studied for my first law degree at TAU (today she's a judge in the Tel Aviv District Court!) called me one day and said that she and her husband had met this guy, Gil, whom her husband knew from a previous workplace. She told me that he was single and that she felt like Gil and I would enjoy each other's company! She asked if she could give him my number, and I agreed."
Gil: "I called Nili up the following day and told her that I was heading up north for a couple of days to give some lectures for work, but that I'd love to give her a call later in the week. That Thursday, we went out for a date on Namal Tel Aviv (Tel Aviv Port), and the rest is history. Which goes to show that sometimes the love of your life is only one friend away – one friend who happens to know that person who will change your life forever."
So, you didn't run into each other in a university cafeteria or while you were relaxing outside on campus, but rather through a friend of Nili from her first law degree studies?
Gil: "Yes, exactly. Nili studied for her law degree in the '90s, while I had finished my MBA studies at the TAU School of Management. In the spring of 2004, when our oldest daughter was born, Nili signed up for her second law degree and graduated two years later."
Did your shared experience as TAU students serve as a primary thing that you had in common?
Nili: "Discovering that you have things in common is always nice! We are both curious people who love the process of learning in general, even subjects that appear to be outside of the box and unrelated to our usual activities and work. One of the most interesting realizations was that while I was busy practicing cross-examinations, argumentation and summaries in white-collar trials that required persuasiveness and high accuracy, Gil had been conducting a course in "business presentation" for M.A. students in the School of Management, so there were some parallels there.
How did you go from being a couple to start working together, holding joint presentations and taking your business abroad?
Gil: "Nili decided to make a career change during maternity leave. She developed professionally in other fields of interest, and we started to join forces. Initially, it wasn't very substantial, but then one day, while we were sitting at a café on Rothschild Boulevard in Tel Aviv in December 2007, I said, "Nili, there's this exceptional candidate in the U.S. who's running for the presidency. I heard him speak back in 2004, and he's extraordinarily gifted. What do you say about the two of us following him remotely and writing a book about his public speaking techniques?
"To be honest, back then, we didn't believe that Barack Obama would win. He was losing to Hilary Clinton in polls, and Clinton was considered (and not for the last time, as we now know) to be the promise of the Democratic party in the U.S. However, as someone who lectures in Israel and abroad, offering advice on how to exert influence and craft unforgettable messages, the project still appealed to me. I wanted to uncover the source of his charisma and energy. When I found out that he had once been an average communicator, I was even more captivated and determined to discover what brought about this transformation.
"Nili agreed, and we started working together on the project, which led to the publication of our book 'Obama's Secrets: How to Speak and Communicate with Power and a Little Magic'.
"The book is purely professional and apolitical. It results from analyzing more than 300 speeches and performances of his during the elections and from his earlier days. We did 'reverse engineering' of Obama's speeches and found and shared many tools that executives and entrepreneurs can implement in their presentations and speeches.
"Since we wrote the book, our work together has expanded significantly. We started receiving invitations to speak about our research at conferences and seminar in Israel and abroad.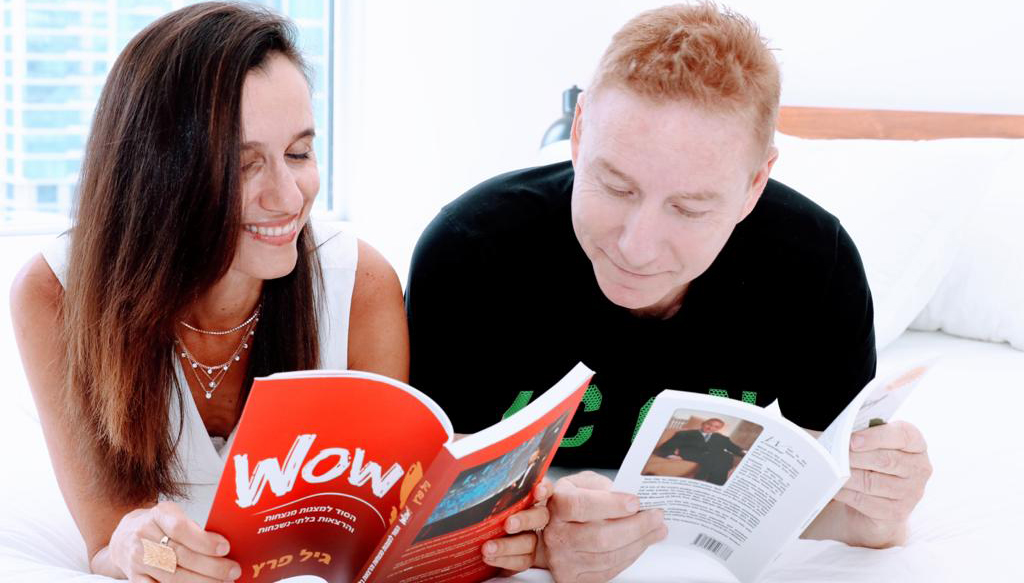 In 2012 you were given an opportunity to relocate to the U.S. How did that affect you?
Nili and Gil respond simultaneously: "We decided to work together".
You even answered that question together…
Nili: "Yes, that happens to us a lot. Both Gil and I had childhood dreams about traveling and living abroad for some years, experiencing different cultures and places. When we got married, we decided to turn those dreams into reality as a family, with our daughters. When we started this venture, we didn't know how far it would take us. We followed our hearts and shared sense of adventure and set out to devour the world.
"We started in Silicon Valley. People there would ask us 'What is the secret of Israelis? How do so many of them become successful entrepreneurs?". After a lot of thinking, we started working on another project together, whereby we would spend more than two years researching the thinking habits of particularly successful entrepreneurs. We began by analyzing the Israeli mindset, but expanded on this a long time ago, and started exploring it as a universal phenomenon. We started that project in North California and finished it in South California, in San Diego, where we're currently based. We plan to return to Israel in a few years and hope to continue working on it there.
"Our research has led us to two important realizations: First of all, this ['Positive Chutzpah' or audacity] mindset can be found everywhere and is not reserved only for Israelis. There are, however, several triggers that intensify the extent of the use of groundbreaking thinking in Israel. Secondly, this mindset can be taught. We help companies wishing to become more innovative recognize how they can make 'Positive Chutzpah' part of their organizational culture.
Gil: "Over the past few years, and this last year, in particular, we have expanded on our joint efforts in the virtual space and established a digital academy. Our courses and seminars (some live ones, others pre-recorded) on subjects such as delivering unforgettable messages, influence and persuasion, strategic storytelling, sales and negotiating, help executives and business owners transform their talents and experience into influence, impact, and success.
Nili: "We enjoy showing executives how Zoom can become a 'technological friend', allowing them to exercise powerful influence even though it is done remotely. This can be done by making use of certain tools as well as a 'new collaborative and interactive framework' to deliver messages, focusing on engaging and entertaining the participants."
"A lot of people say that they suffer from 'Zoom fatigue', while the truth is that they're tired of boring virtual meetings that aren't managed right. Our task is to help people do a better job with this."
You may be the only married couple where both spouses have spoken on TED individually! How would you describe that experience?
Nili: "TED is a platform for sharing good ideas globally, and it was a great privilege for me to get up on such an international stage in California and explain the mindset of 'Positive Chutzpah'.
"A lot of people have great ideas. My mission on the TED stage was to inspire more people to dare to express themselves, even if that would contradict what would be considered normal in their situation. This is also the reason why would later serve as a mentor, in charge of preparing speakers ahead of their talks at the TED event in Savyon in Israel."
Gil: "For me, the TED talk was an opportunity to share an idea that I had received for many years from my father, who passed away a few months before my talk. Nili and I have trained many people who have performed on TED, and our individual performances on the TED stage felt like closing the circle, as a couple and professionally.
Is there anything else you'd like to share with your fellow TAU alumni?
Gil:" Quality of life for each and every one of us depends, first and foremost, on the quality of the meaningful relationships in our lives. Business success is worthless if you do not enjoy quality time - a lot of quality time - with people who are close to you. Most of us are familiar with this advice, but we sometimes lose sight of it while dealing with heavy workloads. My tip is a simple one, and I mentioned it in my TED talk in January 2020: Every day, think of how you can positively surprise one of the people you care about. Having an international day to celebrate love is nice, but it is more important that each new day becomes another day of love. "
Nili: "I believe that our special strength lies in the fact that we have always encouraged each other to reach our full potential, both on a personal and professional level, as well as having stretched ourselves to our max to fulfill our dreams – even if they appeared unattainable. We are there for each other when it matters, offering empowerment and encouragement, and we both regard each other's success as our own. That's part of the secret of our love."
​